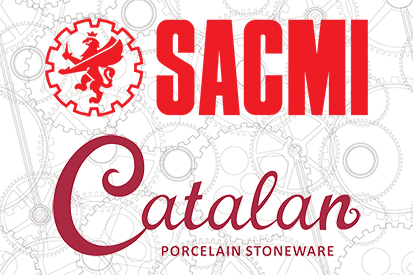 As part of an investment plan aimed at expanding its portfolio in the high-end segment, the Vietnamese company Catalan Ceramics has commissioned Sacmi to supply a new production line for medium-large and large glazed tiles spanning all stages from the press to the kiln exit.
The line currently undergoing installation at the facility in Bac Ninh consists of a Sacmi PH 7500 hydraulic press, the largest and most powerful press currently installed in Vietnam which will produce around 8,000 sq.m/day of 80x80 cm size tiles, coupled with an ECP 285 5-layer horizontal dryer, a DHD-D 1208 digital decorating machine from Sacmi Digital and an FCC low-consumption single-layer roller kiln. A Sacmi PH 6500 dual cavity press for the production of similar sizes, ordered in 2017, is also at the start-up stage.
Catalan Ceramics celebrates its tenth anniversary last year and has been collaborating with Sacmi since 2007, during which time it has received 11 presses, 12 dryers and 12 kilns, as well as various conveying and end-of-line solutions, including a press loading unit, a vertical warehouse and an automated sorting line.
This latest investment raises the Vietnamese ceramic tile manufacturer's production capacity to almost 25 million sq.m/year, strengthening its position amongst the top five ceramic tile companies in the country.